Welcome to the excitement
of the 40th Season of
Kathy Blake Dance Studios!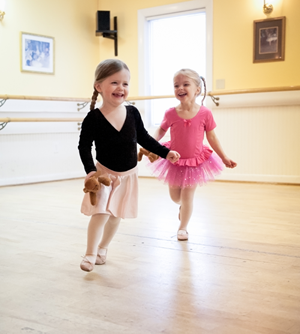 You can count on an offering of inspiring and educational dance classes at Kathy Blake Dance Studios in Amherst, NH! Our professional faculty and staff are dedicated to helping you make your dance class the highlight of your week. Our beautiful large state of the art studios are designed with maple hardwood or Marley floors, full mirrored walls, custom built barres, sophisticated sound systems. The comfortable, clean, user-friendly waiting rooms make the time you spend at our studio pleasant both on and off the dance floor.
We are a vibrant arts community devoted to professionalism and excellence in our classes, faculty, administration, annual performance and general operations. Kathy Blake Dance Studios staff and faculty will operate with respect for the art and heritage of dance as a performing art. We share in the joys and challenges of dance education in a disciplined, yet positive environment that encourages the development and full self-expression of each dancer, regardless of age or experience.
Kathy Blake Dance Studios is known for its high standards in quality dance training, the state of the art facility, and organized friendly management.  We will make every effort to find the dance class that is best suited for your goals.  If you aspire to a professional career in dance or want to dance for fun, recreation and exercise, we have just the right class for you.
Whatever your age, abilities, or aspirations, we have just the right class for you!
We offer a wide variety of programs for children and adults in the performing arts of Classical & Contemporary Ballet, Contemporary, Tap, Modern, Jazz Dance, Hip Hop, Irish Step, and Theatre Dance for beginner through advanced level.  We are excited about the continuation of our Fun & Fitness Program with ZUMBA.  Kathy Blake Dance Studios specializes in early childhood dance education in the following classes; Baby Dance with Me, Baby Ballet, Kidz Hip Hop, Tap-Ballet and Tap-Jazz.
On behalf of the faculty and administration of Kathy Blake Dance Studios, we sincerely hope you make dancing a part of your life.  Discover the joy of self-expression through dance!